Flint Hills Feast — June 23, 2023, 6:30pm
June 2, 2023
|
Events
·
Member features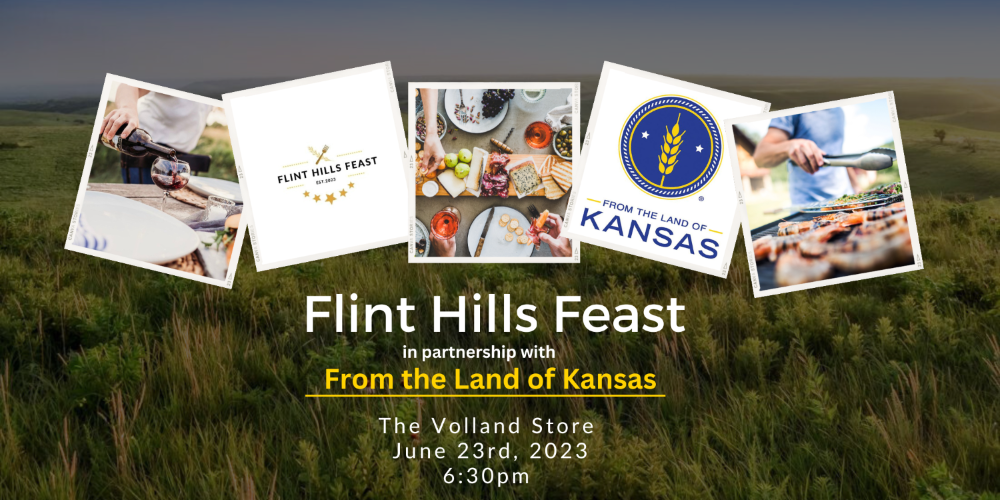 A perfect summer evening under the stars in the heart of the Flint Hills, with a drink in hand and tastings of Kansas products in the other: Welcome to the first Flint Hills Feast!
Join hosts Arturo & Wrenn Pacheco of Pacheco Beef and Lauren Grier of The Curious Plate for an unforgettable evening of feasting on the bounty of the Flint Hills, complete with live music, libations, local artisan tastings, cooking demonstration, art viewing, and more on Friday, June 23rd, 2023 at 6:30pm.
In partnership with From the Land of Kansas, this culinary pop-up is going to be a unique foodie experience. We'll be serving up some of the most delicious and authentic tastings from the Flint Hills region of Kansas.
The Flint Hills Feast is excited to welcome our local artisan vendors:
The event will be held at The Volland Store. This beautiful location is the perfect setting for an evening of great food, drinks and music. Whether you're a long-time resident of the Flint Hills or just visiting for the first time, you won't want to miss this event.
After tastings and enjoying the live music and the art there will be a live cooking demonstration hosted by The Curious Plate and Pacheco Beef. The duo will be sharing tips and tricks on cooking and seasoning beef. Come ready to learn how to think outside the box using different beef cuts on the grill!
Meet your co-hosts:
Lauren is a cookbook author and creates amazing dishes for her food and travel blog The Curious Plate. Lauren is a Kansas native, but resides in Denver, Colorado.
Arturo and Wrenn Pacheco are ranchers in Wabaunsee county and own and operate Pacheco Beef, LLC. Pacheco Beef provides high quality, handcrafted beef from their ranch to your table. The Pachecos are not native Kansans but have put down roots here and plan to stay.
What Your Ticket Includes:
Popular Categories
Popular Tags
Archive